Work from Home Jobs That You'll Enjoy
A Work from home job gives you a lot of benefits and can even be used as a second income if you need money to pay bills, want to kick start your savings accounts, or need to pay down debt. But how to choose a Work from Home Job?
The work from home best jobs that give the most flexibility are ones where you are self-employed or will start your own business. The type of business you choose will determine the level of preparation you will need.
Make a List of Things You Love:
Don't limit yourself to only the things you love that you think you can make money doing. Just list what you love.
Make a List of Jobs that You Are Qualified to Do:
Just simply list out of things you know you could do today to earn money. The jobs should be legal and there is no judgment on your list. Write out what comes to mind.
Compare the Two Lists:
The items will have some crossover. For example, if reading is on your list of things you love then a copy editor, book editor, or proofreader could be on your list of possible work from home jobs.
Use a Search Engine:
You can use a search engine to gain more insight into jobs you can do from home. For example, if you like to play violin then type that in but don't hit enter. Let the search engine fill in the blank for you and you will likely find the word "lessons." This shows you something you can do from home to earn some extra money. Using your search engine still, you can type "get started" followed by an activity such as editing books or teaching guitar and learn about how to get started in these fields. Every different work from home job will have different requirements but starting a business will likely follow the same steps.
Choose Which One You Want:
The best choice for a work from home job will be one that doesn't require any training and one you could start immediately.
Top Work from Home Jobs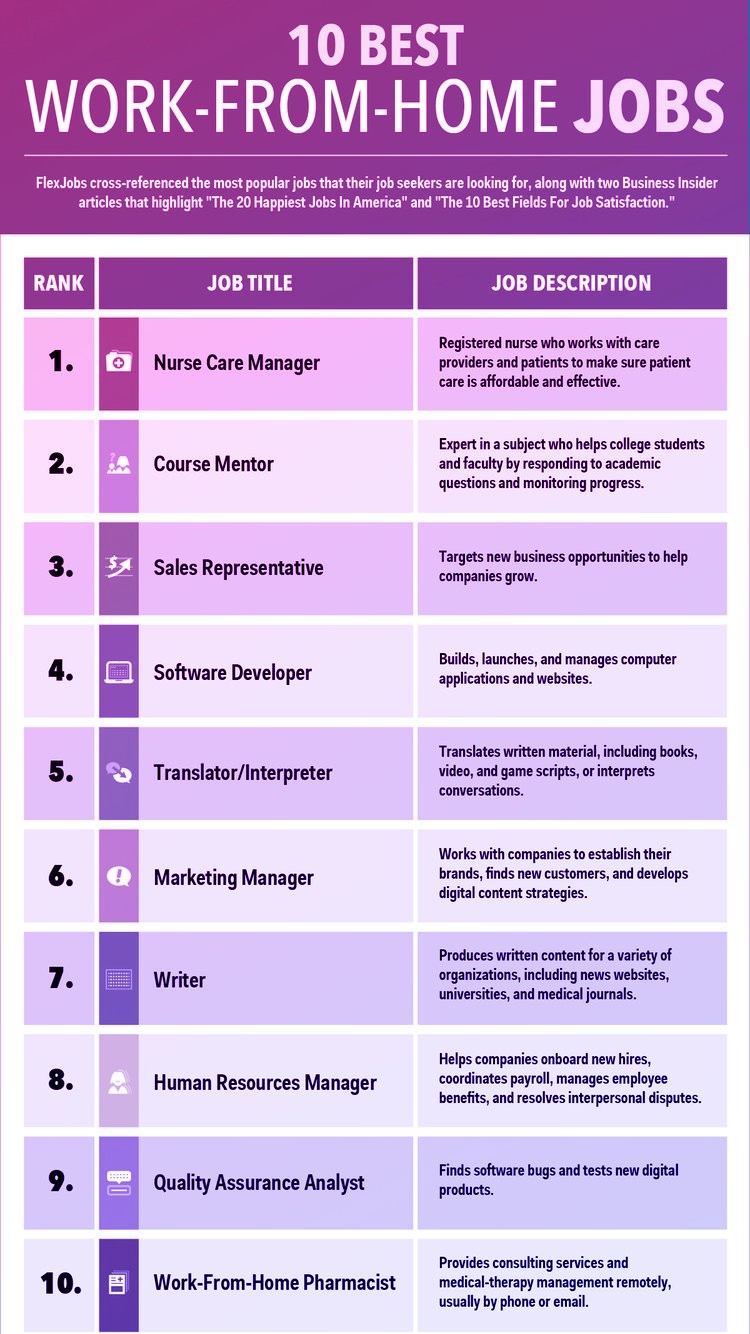 A list of work from home jobs can almost be endless but these are some of the best work from home jobs that may align with your skills.
Virtual Assistant
This job has lots of potential because the title can cover many things. Virtual assistants provide technical, creative, and administrative services for legal, health, finance, government, and other businesses. You can have your own virtual assistant business or you could work for a company and be available to clients. You fit your offerings into what you know how to do. Since there are many different fields, the wages will vary. The highest paid virtual assistants will work full time and offer executive support and higher paying services, such as web design.
Medical Transcriptionist
You do need experience or training from a certified school to be a medical transcriptionist and it can be a demanding job. This work involves listening to and typing up dictation from doctors. It may sound easy but sometimes doctors will be eating, drinking, or talking to other people while dictating notes and this straightforward task can be more challenging. However, it's a great niche for those who are interested in medicine.
Translator or Interpreter
Those who are fluent in another language can find work as an interpreter or translator. Interpreters will work with the spoken language while translators work with audio or written documents.
Web Designer or Developer
Web designers and developers will create websites for commercial and personal use and are responsible for how the site looks and functions. Web designers can use their skills in advertising, publishing, management, consulting, and other fields.
Customer Service Representative
When you make a call to order something from an infomercial or call customer service, the person you are talking to could be sitting in a home office. Businesses hiring independent contractors to take calls from home is a growing industry. This movement is in response to complaints about companies hiring offshore workers. Instead, they are now hiring workers who work from their own office.
Tech Support Specialist
Corporations, call centers, non-profits, and many other businesses will hire technical support specialists that work remotely. If you are good at technology and can explain things clearly, this can be a good option for you.
Travel Agent
The Internet has changed the travel industry. There aren't a lot of people who are calling up a travel agent to book hotels or buy plane tickets. However, travel agents still exist but they just look a little different now. Agents who can specialize in niche travel, such as destinations for wealthy clients, can have the potential to earn six figures just by working from home. A solid business concept and plan is necessary in order to make a profit.
Tutor/Teacher
High-speed Internet connections and advanced technology have created more opportunities for students and teachers to work together from afar. More states have allowed children to attend public school online so there is a bigger demand for K-12 teachers. There is also a demand for people to teach English to children in Asia. Your income will depend on how many hours you are working and the type of class you are teaching.
Editor/Writer
The print publishing industry may be in decline but there is plenty of opportunity for work from home proofreaders, editors, and writers on the Internet. Even those without specific writing experience may find success in the blogosphere. Blogging can be fun and you are able to earn some money writing for another site or get paid to create your own blog through revenue sharing arrangements.
Franchise Owner
Owning a business may just be what you need to work from home if you have the right experience. You do need an initial investment but a franchise may offer you a ready-made business that already has a system in place, a territory, and brand awareness. There are franchise opportunities in a number of fields, such as cosmetics, travel, marketing, employment, and more. Certain franchises may be more expensive than others. In order to find franchises for small, home-based businesses, consider businesses that target the over-50 crowd, relate to the green movement, or improve online or electronic devices.
Social Media Specialist
It's becoming necessary for businesses to have a presence on social media. If you have a knack for using social media platforms, such as Instagram and Facebook, then you can make a living doing it for businesses. Part of the job is engaging and promoting products and services through social media marketing. Social media specialists can also earn money through consulting and training. Depending on the size of business and the amount of work that is required, you could charge between $200 and $10,000 per month.
Childcare Provider
If you already have small children you are taking care of then providing childcare in your home has many benefits. You keep your own kids busy and then you earn money by caring for other children. Different websites can help connect childcare providers with parents in need. You may need to have a license depending on your state if you are going to do this on an official basis.
Graphic Designer
If you have experience with this, there is no reason you can't do this from your home office. There are plenty of websites that can help you connect with potential clients who can use your services. The amount of money you earn will depend on the project needs and your experience.
Short-Term Rental Host
If you have extra bedrooms in your home then you can consider renting it out through sites such as Airbnb. You decide how much you want to charge to rent out the space. You do need to stay competitive with other short-term rentals in your area.
Website Tester
There are sites that will pay you to test different mobile apps and websites and share feedback. Companies want to make sure the user experience is good and they aren't likely to get unbiased feedback from their own people. This job may not be suited for a full-time schedule but can be used by someone who is looking to make some extra money.
Insurance Representative
There has been a demand for licensed insurance representatives. Insurance companies are outsourcing incoming calls to contact centers and the contact centers have to hire licensed insurance reps due to state laws. It can be hard for contact centers to find people with the right credentials so there are plenty of ads out.
Bookkeeping
Technological changes and automation reduce the demand for booking, auditing, and accounting services, but there are still workers needed in this field.
Marriage and Family Therapist
Many therapists work full time and there are plenty that have private practices. Online video conference apps, such as FaceTime, make it possible for therapists and patients to talk without having to go anywhere. Online therapy sessions are more conducive to helping reduce patient no shows and improve regular attendance. You do need to have the proper credentials for this.
Registered Nurse
There is growth in telehealth where patients access health care service remotely through mobile devices and computers. This gives registered nurses the opportunity to work from home. More insurance companies are adding support lines and other phone options to meet the patients' needs without having to visit the office. This increases the demand for registered nurses.
Event Planner
Whether it's a birthday party, convention, fundraiser, or some other event, planners have the opportunity to do a lot of work from home on the computer or phone. The job can require potential site visits. Candidates will likely need experience in the hospitality business in order to have the best opportunities and be successful.
Flipping Items from Thrift Stores and Flea Markets
You can make a lot of money by flipping items you find at thrift stores and flea markets. You don't even need a lot of money to get started on this business but you do need a knack for flipping items.
How to Avoid Work from Home Scams
Unfortunately, there are a lot of work from home job scams. The most important thing is to trust your gut. Scammers usually want to steal your identity by getting personal information that any new hire would be expected to provide a new employer.
In order to avoid work from home scams, it helps to do some research. See if the hiring business is an established company. If you are replying to an online ad, the ad should include the company name and not just have applicants reply to a blind email address. There should be a mention of information associated with real employment and there should be an application and interview process and not just an emailed offer. Usually, references and work samples will be requested.
Benefits of a Work from Home Job
There are a number of benefits people get from a work from home job and working from home.
Flexible Schedule:
You can take breaks at any moment and you don't need to feel rushed to get home to spend time with family members. You can work when you are most productive, whether that is early morning hours or at night when everyone in your family has gone to sleep.
Custom Environment:
You can set up your work space and environment exactly how you like it in order to be more productive.
Cozy Clothes:
You can wear whatever you want when you work from home. However, most people do feel more productive when they get dressed for the day.
It Can Be Easier to Make Calls:
You won't have to scramble to find a quiet conference room or deal with a coworker who is particularly chatty. However, if you do have kids or pets at home, this can be tough.
No Office Distractions:
You can avoid unnecessary debates with your coworkers, sirens outside the office window, and the AC kicking on when it's already freezing.
No Commuting:
All you have to do is head to your home office and you are at work. Commuting can add a lot of stress and unnecessary time to your day. You also won't need to relocate for a job.
Save Money:
Not only will you save money on commuting costs but you will also save money on other expenses of the office, such as going out to lunch and buying coffee. When you are at home, you can save by going to the store and preparing your own food and coffee.
To help you save money, we developed this widget:
More Time with Family:
With no commute, you have more time at home with your loved ones and you are always available to take care of sick kiddos if necessary.
Finding the Motivation to Work from Home
When you work from home, it can be hard to stay motivated but if you want to make money, you have to find some motivation.
Start the Day Off Right:
It can be tempting to stay in bed when you are working from home but you will be more productive if you get up and start the day as would normally. Get out of bed, shower, eat breakfast, and get dressed. Wearing clothes you normally wear to work, even at home, can help you prepare for the day. Following a work routine that you would normally follow at the office can also be helpful.
Create a Work Space:
At home, you need somewhere that is far way from distractions with an uncluttered space to set up your computer and other necessary equipment. It's likely that your kitchen table just won't cut it as a dedicated work space. Some also find that they can work away from home at the library or a coffee shop. If your work allows it, you can also take your work outside. The fresh air can help reinvigorate the workday and bring you some new perspective to projects.
Make a Schedule:
You should still have a schedule for the day so you aren't wasting time bouncing from project to project. Working in a dedicated way in short bursts of time can help increase your productivity and keep your brain engaged. If you can, you may find that you should work when you work best. Many people find that working in the morning when they are well rested can be more productive than beginning their work halfway through the day. This may not be true for everyone and some people find they are more productive at night.
Prioritize the Challenging Tasks First:
Instead of letting the unpleasant tasks hang over your head and create stress when you think about them, push yourself to do the most difficult work first. This can help you clear your plate of these tasks and you will feel a sense of accomplishment with increased satisfaction throughout the day.
Make Use of Technology:
Technology is not always bad when it comes to working from home. There are apps that will help you track social media usage so you can use it less. Use these apps, unless of course your work from home job is in social media. You can also use technology to remind yourself to work if you become distracted, create to do list, and more. Use any available technology to your advantage to help with motivation.
Minimize Distractions:
One problem of working from home is getting distracted. If you shift focus away from your work projects, it will slow down your productivity.
Make the Most of Your Saved Commute Time:
Take advantage of the time you would normally be stuck in traffic. If you would typically spend an hour on your commute every day then do something productive with that hour, such as completing an extra hour of work. You don't have to use that hour at the beginning of your workday and can use it as a break in the middle of the day for the gym. This only works if your work from home employer also this flexibility.
Socialize with Others:
Working from home can lead to feelings of loneliness and isolation. You won't have coworkers you can talk to when you work from home. At first this can seem like a welcome relief but you may find yourself missing the social interaction and the banter. When your workday is finished, go out and talk to other humans. You can take a class or join a group to get some interaction. This can actually do wonders for your productivity.
End Your Day on Time:
When you get into the workflow, it can be hard to stop. A danger of working from home is overworking. You could burn out, which will be worse for your productivity in the long run. Once you have set goals and make a careful schedule, plan what time your work day will end and stick to it. It's unhealthy to take work home with you from the office and having your workday bleed into personal time at home can also be bad.
Steps to Starting Up a Side Gig with a Full-Time Job
In order to start your side gig, you may not be able to quit your full-time job right away since you still need to make an income. However, it is possible to build your side gig so it becomes your full-time work while you still have a full-time job.
Make the Commitment:
This will be hard. It can be hard on your relationships and you will have to make tough decisions. You have to decide to start.
Carve Out the Time:
Write down the list of commitments you have during the week with the amount of time you have to devote to each. Take note of ones where you can lessen your involvement. Cross easy stuff off the list first, such as time spent watching TV, playing games, or surfing social media. You need to schedule time to work on your project. If you are a morning person, you may decide to forgo your morning run a couple days a week and work during those hours. If you work better at night, it may mean skipping diner and working from the time you get home to when you go to sleep.
Find a Support System:
It doesn't matter if you plan to go solo with your side gig; you still need a group of people who you can vent to or ask for guidance in making your venture a success. Surround yourself with people you can talk to who will be able to give you feedback. Search your network for people in the same industry, reach out to mentors, and ask close friends for their opinion.
Set Detailed and Measurable Goals:
You don't want to take the first steps without knowing where you could end up. You need to set realistic and attainable deadlines for yourself, otherwise you could spend time just spinning your wheels. It helps to set daily, weekly, and monthly goals so you have both short-term and long-term objectives.
Build a Roadmap:
It's one thing to set goals but then you need to create a roadmap to those goals. You need to be proactive with this step and change things over time. Your ability to problem solve and overcome your obstacles will determine your success with your business.
What to Keep in Mind When You Work from Home
A work from home job can be the Holy Grail but it can also be stressful. The lack of structure and boundaries can be difficult and cause stress. Flexible work hours can become too long work hours when you struggle to avoid distractions and can't get all your work done. The late bedtime can lead to an unhealthy sleep schedule.
Those who work from home may have trouble setting boundaries. Setting boundaries and creating structure is important in order to make sure you aren't blurring the lines between leisure and productivity time. Setting boundaries with others can be hard but you also need to set boundaries with yourself, especially when you are feeling a lack of motivation.
Reduce your Stress Level
To reduce your stress levels from working from home and keep your motivation up, you can reward yourself. Take a step back and break tasks down into smaller, workable steps and then reward yourself when you complete each step.
Be Comfortable
You also need to be comfortable saying no. You will likely be faced with many requests and you may need to refuse some if you want to have enough time to get everything done.
If your work from home job means you are self-employed, it can be difficult to remain true to your personal goals when there are many energy drains and distractions. Maintain focus on the future if you have goals and changes you want to make. Working from home can be a great thing but you still need to remember to take care of yourself.
There are plenty of work from home jobs that you can do. Those mainly depending on your interest and skill set. There are also a number of benefits of working from home. Spend some time deciding what would be the best fit for you and then look at some available work from home jobs that match your skill set. If you want to start your own business as your work from home job, you need to keep in mind the steps of starting a side hustle while still working your full-time job.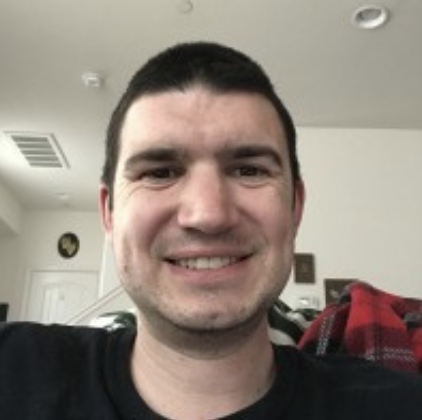 Kevin Strauss is a personal finance writer and homeowner based in the Los Angeles area. Being in one of the most expensive markets in the country, he's learned to maximize resources to plan for both his monthly expenses and future financial needs. Kevin has a passion for helping those in a similar situation navigate the complex world of personal finance so they can pay down debt, plan for the future and live out their dreams.  In addition to covering personal finance in depth on Loanry.com and Cashry.com, Kevin shares his expertise with readers who want to create budget-friendly habits across the web.