Is It Ever A Good Idea To Get A Payday Loan?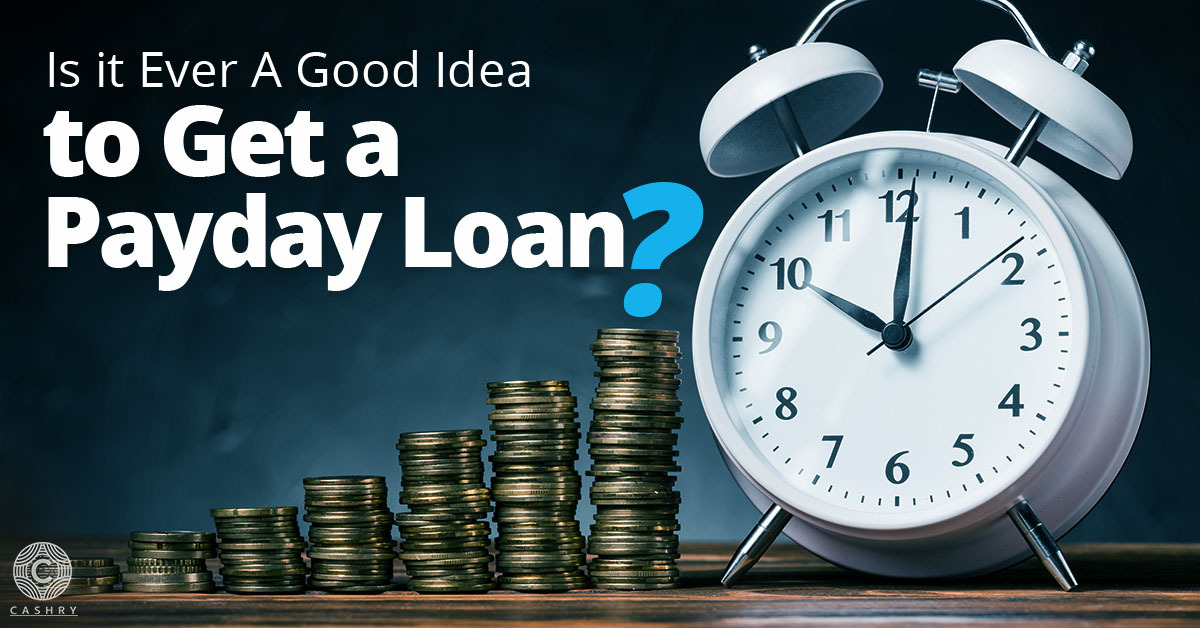 Payday loans and other emergency cash loans are short-term loans, usually for $500 or less, designed to help people get through the gap between paychecks. Treated responsibly, payday loans can pay for emergency medical expenses. They can keep your car running so you can keep your job. They can save you checking account overdraft fees that can be much greater than payday loan interest. They can help you hold on to prized possessions you have worked hard to acquire, keep your credit score on an upward trajectory by enabling you to pay another debt on time, and save you the embarrassment of asking family and friends for help.
What you may not know about payday loans


The critics of payday loans just don't understand how they work. They have a bias that doesn't let them see how it's a good idea to get a payday loan. Let's begin this in-depth article about how to use a payday loan for financial benefit with 11 facts about payday cash you probably haven't heard before:
In 2010 (the most recent year for which statistics are available), 12 million American families took out emergency loans from payday lenders.
According to an in-depth study of payday borrowers by the respected Pew Charitable Trusts, the average person who uses payday loans borrows $3000 per year.
The Pew Charitable Trusts report states that the average interest paid on that $3000 per year is $520. (Just a quick math fact: That $520 interest is 17.33 percent of $3000.)
Payday loans are repaid in an average of 18 days.
According to an article in the New York Times, most payday borrowers don't have payday loans for most of the months of the year. The average payday borrower takes out five loans in five different months and pays them back in the same month. That means that most payday borrowers are payday debt-free for seven months of the year.
More women than men borrow from payday lenders.
Here are more facts:
People for whom it's a good idea to get a payday loan tend to be starting out or starting over. Most borrowers have a family income under $40,000 per year. However, 8 percent of renters who earn between $40,000 and $100,000 per year have borrowed money through payday loans.
People who take out payday loans are financially responsible. The Pew research report states that 81 percent of payday borrowers cut back on spending on food and discretionary items when they meet cash challenges.
Lots of people who take out payday loans are stressed out, an article in the Washington Post reports. But the problem isn't the loan. The problem is erratic hours and variable paychecks that force hard workers on short hours to look for cash. Payday loans help stressed out workers deal with erratic hours and variable paychecks.
Many (about 31 percent) of people who take out emergency cash payday loans have credit cards and available credit on those cards. They just happen to be in situations in which it is a good idea to get a payday loan rather than to tie up the credit on the card.
Payday borrowers, about 69 percent of them, use at least part of the proceeds of their loans for predictable living expenses. These are things like rent, food, insurance, and utilities. However, that's usually because they have already diverted available cash to an emergency need.
Payday loans are a powerful financial tool. There can be many, many times it is a good idea to get a payday loan. Like any other powerful tool, it's possible to get into trouble with payday loans. So let's take an in-depth look at what you need to understand about borrowing emergency cash in ways that lift you up rather than weigh you down.
Sometimes you just can't avoid payday loans
Finance gurus tell consumers to avoid payday loans, but there are times cash loans from a payday lender make good sense. There are even times that people come out ahead by taking a payday loan. Here are some common situations in which it is a good idea to get a payday loan.
Your kids get sick
Suppose your child comes down with strep throat. You managed to get in to see the doctor, but you absolutely, positively have to buy some antibiotics, and you have to buy them right now. Online cash loans fill the bill for you. This is another critical time it is a good idea to get a payday loan.
You just started working a new job
This job comes with overtime. You are just about to get ahead! Then your old car breaks down. You need emergency cash to get your car towed, get it in and out of the shop, and make sure you keep your great new job while all of this is happening. Your payday lender can help.
There's no dishonor in taking out a payday loan. It's often a good idea to get a payday loan. But you need to understand what you're signing up for.
When You Take Out Fast Payday Loans, Make Plans to Pay Them Back
Most people are diligent and honest about their payday loans. The Pew research center found that 97 percent of payday borrowers either renew their loans or pay them back.
Payday lenders make it easy for you to honor your loan agreements. If you can't repay the money you borrow at your very next paycheck, they will usually roll over your loan for an affordable fee. How does that work?
Suppose you drive 20 miles each way to work every day. You absolutely have to keep your car running. You notice that your car's get up and go got up and went. It just doesn't build up speed after you stop at a red light or when you are merging onto the freeway.
You take your car to the shop, and the mechanic says there is bad news and there is good news. The bad news is you need a transmission repair that is going to cost you $612. The good news is, if you get this work done, you won't have to spend $4,000 on putting a rebuilt transmission into your vehicle. However, you only have about $100 in the bank.
You log into a reliable payday loan referral site like cashry.com and it might redirect you to a reliable payday lender. Cashry is a very good example of a website that might help you find a lender when you need it.
For instance:
Let's say you borrow $500 and make a commitment to repay the $500 plus a $50 fee in two weeks. Let's say your take home pay is $1000 every two weeks. Your repayment day comes and you can't pinch $550 out of your $1000 paycheck. That's not a crisis. The lender will delay your loan another two weeks if you just pay the $50 fee. You will still owe the original $500, and in another two weeks, you will owe another $50 fee.
A month passes. You worked some overtime, and you have about $300 more cash than usual. That's not enough pay back your loan, so you pay another $50 renewal fee. Two more weeks pass, and you have worked another $300 worth of overtime. Now you can repay your loan — and you have a few bucks left over. It was a good idea to get a payday loan.
Critics of Payday Loans
Critics of payday loans would point out that you paid $150 in renewal fees on a $500 loan. They would say that you are paying a really high interest rate. They would be right. Payday loans aren't cheap. It would be nicer if you had a 790 credit score and could get a signature loan for, say, 5 percent interest. Then you could just pay back $500 plus the bank's loan origination fees.
However, you'll find that banks don't want to do the paperwork to lend you $500 for six weeks. Maybe they will charge their own hefty loan origination fees. Or they expect you to have a lot more than $500 tied up in a certificate of deposit or some other kind of deposit with the bank. The bank may not charge you as much as $150, but they wouldn't get you your money in time for you to keep your job, either. Payday loans aren't a perfect solution to a financial problem, but they are often the best solution you have. It's a good idea to get a payday loan.
Cashry is one part of the solution!
Cashry is a website that might connect you to a payday loan lender when you need it.
However, it's important to remember that emergency loans are only one part of the solution to a financial problem. Fast payday loans can keep the wolf from breaking into your house. Your payday lenders are the good guys, but the financial wolf is still lurking at your door. Emergency loans only work for you when you have a plan to climb out of your financial hole, not just to stop sinking deeper.
Don't assume you can renew your payday loan unless you have a document that gives you the terms and conditions. Don't take out a payday loan unless you know how you can repay it. And before you decide it's a good idea to get a payday loan, make sure that the pros outweigh the cons for you. Our partner Fiona bring only credible lenders to you and we connect you with them if you need a loan. To check whether you qualify for a loan with any of these lenders, start here:
Advantages of Payday Loans
The best payday lenders (although not all payday lenders) offer loans with these advantages:
Payday loans that are not secured.
You don't have to haul your valuables to a pawn shop. You don't need to sign over the title to your vehicle and have it fitted with a GPS tracker. Payday loans rely on your fulfilling your promise to repay your lender.
Overnight (or even faster) cash.
The best payday lenders are able to deposit funds directly into your account. This may happen almost instantly after approval of your application. It's no longer necessary to fill out a hard-copy application, hand it to a clerk, wait for your information to be input into a computer, wait for a decision, and then wait to get a check. Modern payday lenders offer paperless loans.
Easy approval.
Lenders will usually do a soft pull of your credit report to verify your income. That's enough to decide if they think it is a good idea to get a payday loan. This isn't an inquiry that affects your credit score. But cash loans don't really depend on your credit score. Proof of employment is more important than your credit score for a payday loan. You will have to answer some questions about your income. There are situations in which you will need to submit a physical pay stub or a PDF of your pay stub, but you can keep some information about your income private.
You can apply online.
There's no need to take time off work to visit a brick and mortar payday loan store, although many such institutions offer great service. You don't even have to go to a mailbox. You answer a few questions online in the privacy of your own home, just about anytime 24/7. Get your funds by direct deposit.
Reasons to avoid loans
Payday loans aren't too good to be true. There are solid benefits of payday loans that can make a huge difference in your life. But that doesn't mean you can take your obligations for granted. It isn't absolutely always a good idea to get a payday loan.
Payday loans aren't cheap.
Payday loans aren't as expensive in comparison to bank rates as they are often made out to be. Your bank might charge you a $35 fee for a $0.01 overdraft. That's a much more expensive loan than a payday loan. But payday lenders aren't charitable institutions. The fees you pay to originate and to roll over your loans are substantial. It's always best to find a way to get all the cash you need to repay the loan together as soon as possible and close your loan.
Payday lenders are connected to credit reporting agencies.
Your payday lender probably won't pull your credit report before making you a loan. But if you ignore your obligations, your credit will suffer.
Financial complications can arise when your lender requires that you give them access to your bank account.
These lenders will make sure they are repaid by automatic withdrawals. If you fail to roll over your loan, the money will be taken out of your account with no additional notice. You may be able to contact your bank to revoke the payday lender's access to your account. You won't be able to reverse the withdrawal or any overdraft fees that you incur as a result.
Another potential problem with emergency loans is that it's easy to feel a little too relieved. You have a way out of your temporary financial crisis. You forget that you will still have to work extra hard to get back to solvency. Payday loans can be exactly what you need when banks, credit unions, peer to peer lending platforms, and credit card loans aren't available. But they are a temporary solution. They can't fix permanent problems in your finances. They can just help you get to a better place.
What's the safe way to get a payday loan online?
All payday loan websites aren't equally secure. There are some very important reasons that it is smart to be particular about who gets your personal financial information. You don't want hackers to get access to your social security number. You don't want just anyone to be able to access your bank account. You don't want an oopsie to drain your bank account on payday. So how can you tell whether an online payday loan site is safe?
For starters, don't enter your personal information on any website that has a website beginning with "http." You want the website to begin with "https." The "s" in "https" stands for "secure." There will also be a lock icon in front of the web address. Sites with the lock icon and "https" in their web address use 128 bit SSL encryption technology to keep your information safe from hackers.
You also want to deal with a lender who makes it easy for you to communicate with them. Let's face it. If you need a payday loan, you've got a lot on your plate. You have a lot to do, and you don't want to be tied down to any single physical location to get in touch with your lender fast. Choose lenders with whom you can communicate by computer, by mobile device, or by phone.
Internet safety isn't something that is just on the lender site. You also need to make sure your own computer is secure:
Don't let just anyone have access to your computer, your mobile devices, or your phone. Set them up so that they require a password on startup.
Make sure your Internet Service Provider (ISP) is hacker-proof. It's not unusually for the Internet security protocol to be set to off on your home router. Call your ISP to make sure it's turned on. If your ISP can't assure you that have a kind of protection known as WiFi-protected access 2 (WPA2), consider getting another ISP.
If you got a preset password with your router (usually it's on a sticker on the device), change it. Use a password that is easy for you to remember but hard for other people to guess.
If you are using an unsecured WiFi hotspot, at least be sure that you are only giving your information to https sites. It's a good idea to set up a virtual private network (VPN) if you use unsecured WiFi as your primary Internet provider.
If you have to give your data to an unprotected http site, use Firefox as your browser. The Firefox add-on Force-TLS will force protection on the site.
You may not believe that your personal information is important enough that someone would want to steal it. It really is. What you want to avoid is any situation in which you can't get a loan because somebody stole your identity. Or worse, getting stuck with a loan someone took out in your name and with your personal information.
Wow. This seems really complicated. Who can help me get a payday loan online?
You don't have to search hundreds of payday lending sites alone. You don't have to spend hours finding that one lender who can get you the money you need by tomorrow. You don't have to check out the Internet security protocols or the Better Bureau Business ratings of the sites you hope can get you money fast. You can do one-stop shopping for payday loans at Cashry.
Cashry isn't a payday lender. It is a service that helps you find the payday lender who may work best for you. Cashry does not make a loan application for you. They take your information to act as a matchmaker between you and lenders who fit your needs. Plus, they don't do a credit check on you. They never charge you a fee. Their fees are paid by the lenders. Cashry's team don't guarantee that you will find a lender, but they will try their best to find one for you. You don't have to move forward with an application to a lender Cashry finds for you. The only requirement to use Cashry's service is that you live in the United States.
Cashry helps you find a lender. They can give you even more information about how to find the right payday loan. Plus, they can give you even more information about figuring out the pros and cons of emergency cash loans. They have the latest information on low-income and bad credit loans, and they even offer pages of information about alternatives to payday loans and title loans.
Cashry realizes it isn't always a good idea to get a payday loan.
Sometimes people have lower-cost alternatives. Sometimes contacting creditors gets you more time. Employers may give out advances, especially when the need is for a way to get to work or to do more work. Maybe you have an IRA or a 401(k). Community food banks and churches help with more than just food. Some churches help with rent, utilities, and health insurance, or help people in need find ways to get to work and the doctor. A pawnbroker may (or may not, you will have to find out) offer a lower rate of interest than a payday lender. And there's always asking mom, dad, and other family members and friends.
The Pew Research Center published another report on title loans that found that:
The two million Americans who take out vehicle title loans pay on average $1200 per year in fees for every $1000 borrowed.
On average, lump-sum title loan repayments are more than 50 percent of the family's monthly income.
Every year, from 6 to 11 percent of people who take out title loans have their vehicles repossessed.
Missing an insurance payment, even if you are up to date on your title loan, is a reason for having your vehicle repossessed.
Check it out on The Pew Research Center website
And how will you get to work without a vehicle?
No payday lender is ever going to require you to hand over title to your car or truck or motorcycle. It's always a good idea to get a payday loan if the alternative is a title loan. But take out any loan with the clear goal of repaying it as soon as you can. Use emergency short-term loans to stabilize your life so you can put in the extra effort to get ahead.
About the Author – Robert R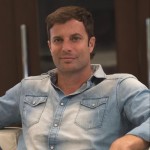 Ethan founded OfferEDGE in Dec 2013 with the mission to unify the financial quadrants through a system that allows businesses to be seen when consumers use a Single Sign On across Lending, Credit, Money and Real Estate. Taub invents the offers and IP, while overseeing all aspects of the company. He also has orchestrated the company's earned media across the brands Loanry®, Cashry®, Debtry®, Budgetry®, Billry®, Taxry® and more. This includes over 500 publications that have been featured across the web.