How do Payday Loans Affect your Credit?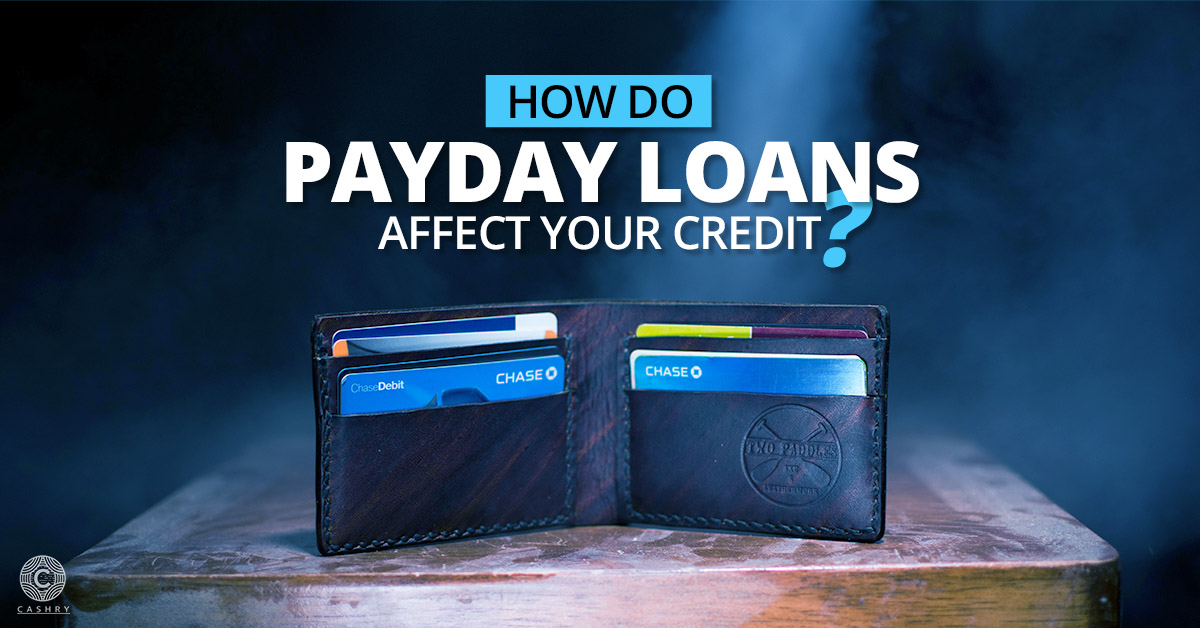 We all need money to help us get through life from time to time. There is no shame in that. Everyone needs to turn to help with small cash loans from time to time. Depending on your situation, they might just save you. Now, there are different types of loans out there. One kind of loan that you might have heard of is the payday loan.
Now, I know what you are thinking. Aren't payday loans a bad thing? Aren't they illegal in some states? In short, the answer is yes. But do we really understand how they work? Why do they have such a bad rep? Who made them that way? Can there be anything positive about fast payday loans? In order to get the right answers to all of these questions, we have to look into what payday loans are all about.
What are Payday Loans?
What exactly are payday loans? According to the dictionary, they are
"A relatively small amount of money lent at a high rate of interest on the agreement that it will be repaid when the borrower receives their next paycheck."
You are basically putting up your paycheck in exchange for small cash loans. So far, it does not sound so bad. You are just getting some money to keep afloat while using your paycheck as collateral. Sounds reasonable in practice. There does not appear to be a long term commitment attached to payday loans.
The terms are not always the same depending on which state you live in. They come in small amounts. The Consumer Financial Protection Bureau says that the limit is $500 or less in most places. In theory payday loans so like a good way to go when money is tight. Plus, payday loans are easy and quick to get. The lenders will not ask you any questions when you start the application. So what is the big problem? Well…
Payday Loans and Your Credit
Just like everything else in the world, payday loans affect your credit down the line. How; you ask? Payday lenders don't typically run your credit when applying. They use income as a basis for decisioning and hence where the term "Payday" originated. So, income verification is basically the credit check. In most cases, there is no reporting to the three major credit bureaus (TransUnion, Experian and TransUnion), although there are "alternative lending" bureaus out there that track your payments. These subprime bureaus are used by short term loan lenders so they know whether to lend to you again in the future.
The problem is usually bigger than missed payments on a Payday loan though. Borrowers often end up in a debt cycle that does affect your credit. These borrowers take other loans for bad credit they have trouble paying back. Missing loan payments for your car, personal loans, credit cards, etc. can ruin your credit. Here's what that looks like…
First, it depends on how you are paying back the loans. If you are making the payments on time with a stable job, then nothing can happen to your credit. If not, your credit will suffer. You might not grasp it but your credit will dictate your life.
You need it to buy a house or a car. It does not help that most lenders will not look at your credit history before they start doing business with you. They could unwittingly end up pushing you deeper into debt. The only hope that you can keep your credit safe is that you get rejected for the loan. But if you get approved, what happens next? How do you keep your credit safe from debt?
By itself, payday loans will not affect your credit. If you are not careful, there are ways that you can still make things worse. The main three are bounced checks, unpaid loans going into collections, and lawsuits. Let's take a closer look at each one, shall we?

Bounced Checks
Having a check bounce is never a good thing. There is something wrong with your money at the bank. A payday loan has to be paid off via checks. While a bounced check will not directly do anything to your credit, the problem comes in when you don't pay. You have to pay everything back in time. If this does not happen, all unpaid loans will go into collections.
When that happens, the collection agency will report all to the credit bureaus. Then you will have a problem with your credits. Always check to see how much money you have in your bank account before you write out that check. If it helps, get a little book to help keep track of all of your money. Also, try to get a stable job that gives you enough money to keep from bouncing your checks.
Unpaid Loans Going Into Collections
What happens when you don't pay your bills on time? The lender will send your debt to collections. Next will be a reporting to the credit bureaus. And when that happens, your credit score will go down. You do not want that. Paying back what you own after a judgment against you will not help at all either. The stain on your credit will last for up to seven to ten years.
No one has time to deal with that in their lives. If your overdue check does not clear with your lender, your debt will be sold to a collection agency and reported. Keep in mind that a payday loan is different from a standard loan, but it still follows the same principle of a loan. This cannot be stressed enough. Pay off all of your loans in time. If you can't, take to your lender to see what you can do.
Lawsuits
We are not talking about the TV courtrooms for this either. Collection agencies and your payday lender can sue you to get their money. It should not have to come down to this. They might not want to do this, but you have left them with no choice. They want their money. Collection agencies and payday lenders will do anything to get their money. The worst thing you can do is not show up in court. That and losing your case will end up on your credit score. Don't want to end up in court? Pay everything on time to the best of your ability.
Why are Payday Loans so Bad?
You might have heard that payday loans should be avoided and are even illegal in some states. But have you ever stopped to ask why? Payday loans do not appear to be stable in the long run. According to Cleaning House Community's article, The Verdict Is in, Payday Lending Is Guilty as Charged, "For the vast majority of borrowers, a payday loan is a lure into a debt trap." This is because most people do not tend to pay off a payday loan. It leads to cash loans causing bad credit situations. What people do not realize is that payday loans affect your credit. The problem is that people do not use payday loans how they should. It's just like with money in general. People get involved with payday loans will end up using for anything but emergencies.
One example is a man named Greg Davis who turned to payday loans to pay for his "girlfriend" collecting inheritance from her father in a catfish scam. The results were not a pretty picture. This just demonstrates how it is it to get hold of payday loans. Problem is that borrowers do not see how payday loans affect your credit. The Verdict Is in, Payday Lending Is Guilty as Charged goes on to add, "Borrowing a significant percentage of income against the next paycheck unavoidably creates a cash-flow problem for the next pay period—and the one after that, and the one after that." This could mean the size of your paycheck.
Like if you do not make enough money to pay off the loan, you are going to end up in the endless debt cycle. Plus you have to add in some shady practices that go on behind the scenes with these loan companies. They can call your work and family to get their money. This is not good when you are already under pressure from life in general. You do not need harassment from lenders looking for you to pay by them back on a bad loan. Because of this, states have worked to stop foolish people into going into debt because of small cash loans.
The Positive Side of Payday Loans
There is something positive about payday loans, believe it or not. Small cash loans from these companies can be good in emergencies. Say that you need money for rent. You could apply for small cash loans to help keep a roof over your head. Can internet payday loans be legal and help you keep from falling into debt? The first benefit is that payday loans are easy to get.
You can even apply for them online. There aren't many questions lenders ask when you are going through the process. If you need the money right away, you can do it privately and be on your way after you get the money. That all sounds like both a dream and a bit shady. Plus, the money limits are up to $500 per loan.
This is in place so that you do not end up borrowing over the amount of your paycheck. (Remember, you are paying back the loan with said paycheck.) The catch is that you have to pay back the money with your paycheck. If you have a decent paying job, you have a good chance of paying off your debt in a timely matter. So, the positive side of payday loans are quick and easy to get and there is a limit to how you can borrow.
Are We Really Doing Them Right?
Can fast payday loans be done right? Because they are so easy to get, people can end up abusing the system and getting into debt. Most states have made payday loans illegal to keep from wrecking your credit. You have to keep in mind that payday loans affect your credit. Georgia has made them illegal under racketeering laws. New York has them on a limit of twenty-five percent annual interest. New Jersey does the same on a thirty percent annual interest. But is this really enough to stop people from making mistakes from applying for a payday loan?
You will be surprised to learn that you can be rejected for a payday loan. How does this happen? The main reason is the addiction. Because payday loans are so easy to get, it becomes people's go-to when they need money. Here's the thing: payday loans are for emergencies. If you need to pay your rent, buy groceries, and/or buy things for child care needs while money is tight, go ahead for those loans. Do not turn to payday loans for luxury items.
That is how the debt cycle starts. Plus, you can be rejected for a payday loan for not having a job or being in bankruptcy. Before you apply for payday loans, ask yourself if you really need that money. If the answer is no, then don't it. Remember, payday loans affect your credit.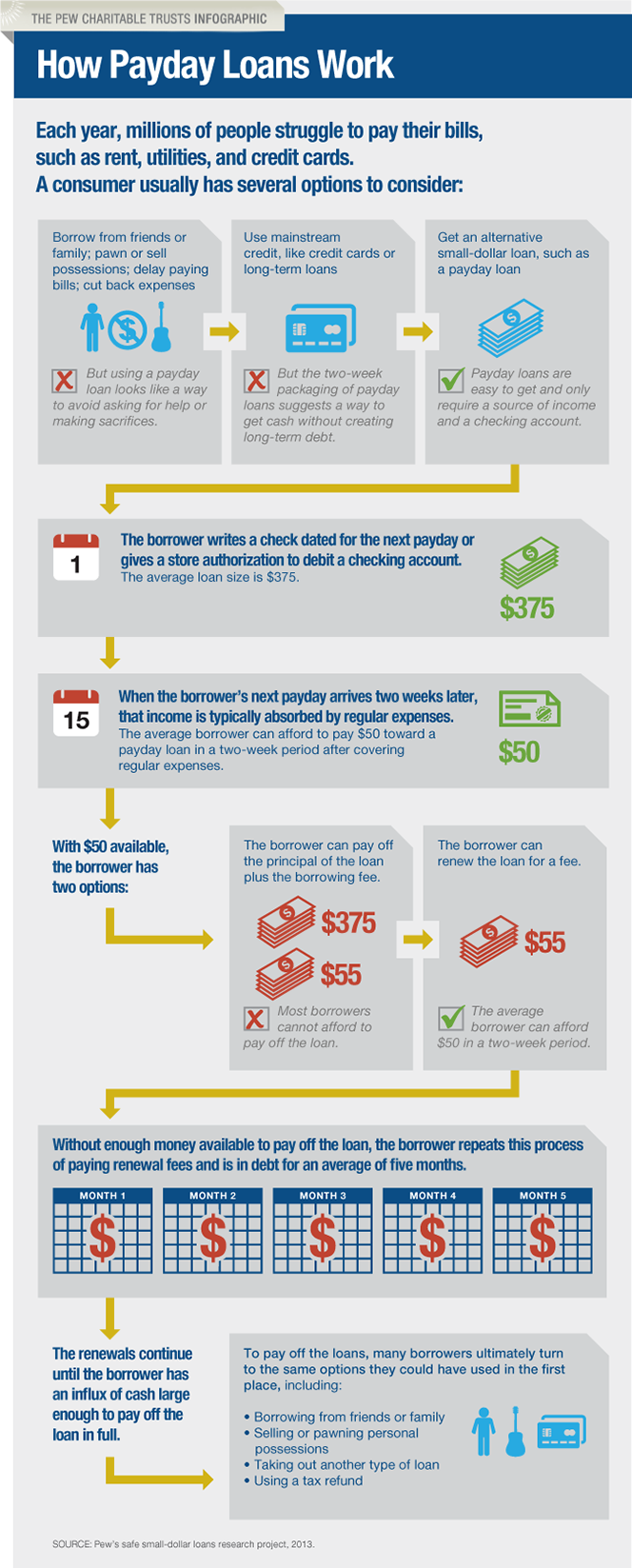 How to Do Fast Payday Loans Right
Let's say you do need a loan to help pay for your needs. How do you go about doing it the right and legal way? Sure, the process itself is easy.But there are some factors that you have to look into before diving in. You do not want to get ripped off and end up going into debt. Do not become another debt cycle statistic. Here are some tips on how to go about the payday loan business and not fail in the process.
Do Your Homework
This cannot be stressed enough. The cycle of cash loans with bad credit starts when you end up with a shady lending company. Do not fall for the trap. Take the time to do the research. What are the customers saying about them? How is this lending company's reputation? Do they harass the people they lent the money to until they get their payment back?
Are they known to use abusive tactics to collect money? Do they have hidden fees that could be a trap? Read the fine print and do your research before you apply for a loan. You already have money problems to worry with. Do not stack on more and end up drowning in debt. Payday loans affect your credit. Never forget that.
To find a reputable lender, do your research. Or you can use Cashry. Cashry connects you to credible companies when you fill out the form below and provide us with the necessary info to find you a lender who may be willing to give you a loan. After you fill out the form, wait for a couple of minutes and you'll get offers from us:
Assess Your Situation
Why do you need a payday loan? Is the rent do? Do you need to buy groceries? Do you have any children to take care of? Think long and hard about those questions for you to apply for a payday loan. Yes, you can get rejected for a payday loan. How does this happen? There are seven things that the lender will look at before they can approve or deny you.
Too Many Outstanding Payday Loans: Payday loans are so easy to apply for. They do not ask any questions and you can do it in the privacy of your home. It is easy to see why people would turn to them more often. The problem begins when you don't pay them back. If you have too many unpaid loans, you will be rejected on the spot. Just because it was a small cash loan do not mean that it will be taken lately. You will be rejected if you are using another payday loan to pay off a previous one. You also cannot have more payday loans that you are trying to pay off as well. Plus, you cannot get another payday loan within the last ninety days. Keep track of how many payday loans you have and are trying to pay off. You are trying to stay out of debt, remember?
You Don't Have a Job: The whole concept of a payday loan is to pay back the money when you get your next paycheck. What is the point of getting a payday loan when you don't have a job? How are you going to pay it off when you are out of a job. Focus on getting a job first before you apply for a payday loan. Getting a loan when you don't have a job defeats the concept of the payday loan.
You Have a Bankruptcy: You have a bankruptcy on your record, getting benefits from the government, working as a freelancer, or don't have a stable source of income, they will reject you. A payday lender wants to be assured with some hint of stability. They want to be sure that you will pay your money back. You want to be seen as reliable to the lender. Sure, you are trying to make any money any way possible and stay afloat until you get a stable job. But what about until you reach that point? Try to have some hint of stability before applying for a payday loan.
Too Many Recent Over Drafts or You have Made Payments to Gambling Organizations: Lenders will look into your financial history. Overdrafts from the bank and gambling problems are a red flag to them. This just tells them that you are not reliable with your money. How can they trust you to make back your payment if you are blowing it all on gambling and shopping? There are two ways to fix this problem. For overdrafts, always keep track of everything that you have in the back. ATM's give you the option of checking your balance in the bank. If you do not have enough money in your account, leave it alone. For gambling, seek help for your addiction. There are plenty of places that you can call and get help. Afterward, wait a bit before applying for a payday loan.
Over-applying for Loans: Speaking of overdrafts from the bank, over-applying for a loan will take a nasty hit to your chances of getting approved for a payday loan. Couple that with applying for a loan one too many times and you will start a debt cycle. You do not want that. Please keep track of everything that you loan. Try to pay it back as soon as you can. Look at how much money you have before applying for a loan. It is better to not get a loan than to get one and then not pay it off in time.
You Don't Have a Checking Account or Don't Meet the Minimum Requirements: We get it. Some people do not trust banks. So they will stash all of their money around the house. But if you want to get a payday loan, you have to have a checking account in the bank. Just because getting a payday loan is so easy does not mean there are no requirements that you have to meet. What are the minimum requirements you have to have in order to be approved for a payday loan? Those vary from the states where payday loans are legal. Take the time to look up what those are. What can you do to meet them? Can you meet them? You might want to think this through before you get into something that you might not be eligible for. Keep in mind that payday loans affect your credit.
Your Salary is in Cash Are Payday Loans Worth it?: We still have to use cash in the world. While some businesses are using things like PayPal to pay employees, others are still using cash. Even so, the future looking for cashless payments. Payday loans are starting to look rather useless because of it. That is just how it is. Cash is not welcome with some stores and vendors. There is not much you can do about it. You just have to keep up with the times.
Be Consistent
You have to remember that payday loans affect your credit. You have to pay them back to keep your credit looking great. Do the best you can to make the payments. Keep track of all of the payments that you make. If you have to, write them down in a small book. Try to work out a date to make your payments. The most obvious way to keep up with payday loans is to actually get a stable job. The concept of payday loans is to be able to pay them back with your paycheck. Sure, you need the money but look for something stable. If you keep track of your payments and have a stable job, you will be able to pay off the payday loans with no trouble.
In Closing
Fast payday loans do not have to be a bad thing. You just have to learn how to handle them properly. Just do your homework with the payday lender. Have a stable job so that you can pay everything back. Pay everything back on time to the best that you can. Keep track of all of your payments. If you do all of this, your credit will not suffer.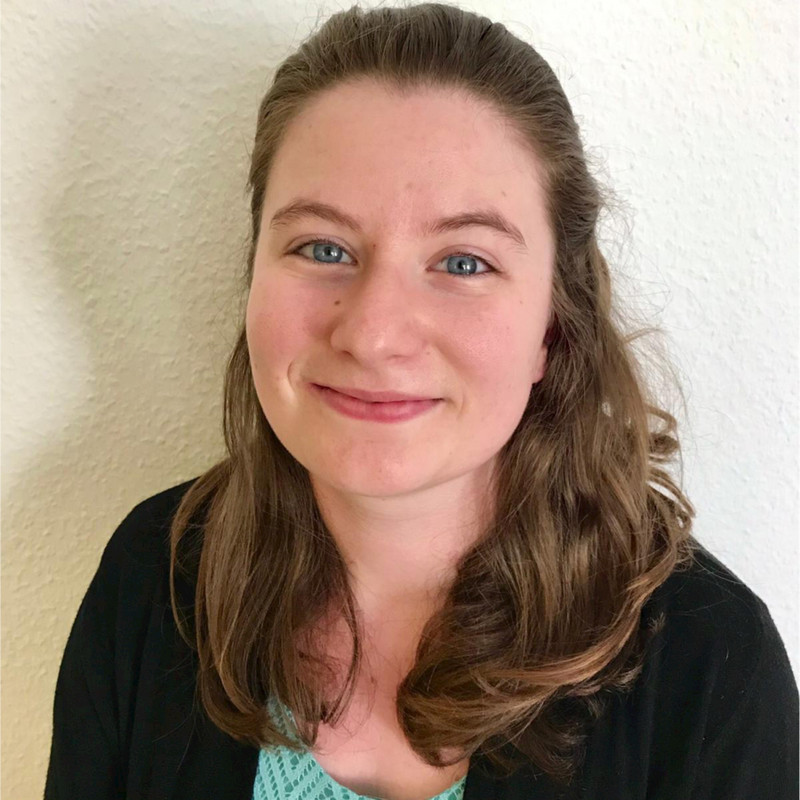 Grace Douglas is a master candidate in international security management by day and a personal finance writer by night! With powers in finance, writing, and languages that she received by being exposed to high dosages of university courses and being bitten by booklice while working in a rare books library, Grace loves to use her powers for good rather than evil. If you need help with budgets or personal loan questions, then just call Grace, your friendly neighborhood FinanceWoman!